And That Was the Weekend That Was
Let's see. How was my weekend?
Mixed.
First of all, I got my SECRET PAL package on Friday! Oh, how exciting! Here's the photo essay:
For the kidlings, she sent a plethora of Spongbob goodies and other assorted funsies. There's stickers, magic washcloths, playing cards, foamies to make door hangers and visors, necklace kits, and plastic cups. They were thrilled! Mary's made several cards already with the foamies and did both door hangers.
For me, there was two packages and one big box of Russell Stover Net Carb candies. They're quite yummy, and being sugar free, they don't cause those nasty blood sugar spikes and crashes that regular candy can bring. They're also crazy to find around here. Not many places carry this line, and when they do have it, they have one or two varieties at best.
Of course there are knitterly goodies as well! In my very own Spongebob cup, there's a Yankee Candle in lilac that made the whole package smell like spring. There's a funny little sheep keyring with googly eyes that I have to keep taking back from the kids. There's a package of wool wash and some Knit Klips, which are plastic clips that you use when seaming a garment instead of pins. I've been wanting to try these!
She sent me some terrific needles! I got Addi Turbos (my faves) in sizes 3 and 5, both 24" for doing little sweaters and things. And I got my set of size 3 Crystal Palace DPN's to replace the Clover ones that Lilith the cat chewed the ends of. Funny thing is, I had these in my hand at my last trip to Patternworks and I put them back, figuring that they could wait. Good thing I did!
The yarn there is two skeins of Cascade Pastaza in a lovely mauvy purple heather. It is WAY soft. And that other one? Mmmmmmmalabrigo, baby! I've been dying to touch a skein of this and ooooooooh, my! SO SOFT! Really. I'm not sure if I should knit with it or just cuddle it like a teddy bear. It's amazing. And it's an olive green and rose colorway. Very soft, earthy and pretty.
And for me, the piece de resistance. Barbara Walker's first collection of stitch patterns. As excited as I was about the Malabrigo, I squeed aloud over the book. There are 500 stitch patterns in this book, some of which I'd never seen before. The best part of the book for me is that she explains a bit of the origins of the stitches and makes suggestions for what it might be best used for, be it a sweater, or gloves, or stockings, or whatever. She explains if some have a tendency to curl, whether it makes a tight or loose fabric, if the effect is tweedy or delicate. It's truly comprehensive.
Of course, like a crack addict, now I've had my first hit for free and I want more! I want piles of Malabrigo to roll around in, and I want the other two Barbara Walker books! Gimme gimme gimme!
Now, me being me, I couldn't figure out who my secret pal is. I thought, I sleuthed, I had no luck. I had to admit that she was cleverer than I, and she finally gave it up: Zonda! Here's the weird thing: Zonda sent me a RAK package a while back that had a card in it. I got an idea for a pattern and quickly jotted some notes on the back of it as it was the first available piece of paper I had handy at the time. This card has been sitting by my knitting chair for months. Had I but opened that card and compared it to the notes in my SP package, I could have figured it out. But no. The thought didn't even cross my mind.
So again and again, thank you so much, Zonda! I love EVERYTHING! And you too! MWAH!
I also got to break out my new knitting book in style this weekend. We had a birthday party for the Hub on Sunday, which meant cleaning the house most of the day on both Saturday and Sunday. Saturday we cleaned and cleaned and cleaned. It needed it, and it is Spring, after all. Time for cleaning, really.
I went through all the knitting stuff around my chair. I put needles back in their case, sorted my circs and put them back in their bags. I gave the WIP's their own basket and amazed myself at how much I have on the needles at the moment. It's unlike me! I went through and wound partial skeins into easy to handle balls, and in that mass of yarn, I found a ball of my homespun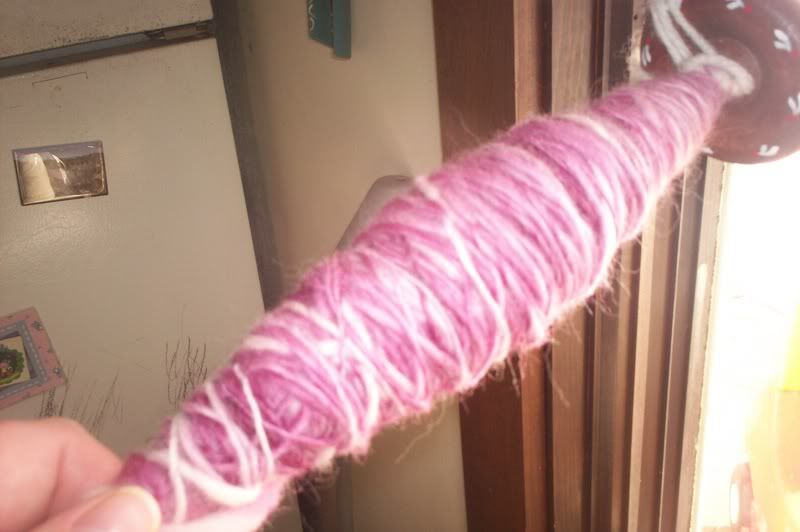 that had gotten tangled and set aside like a bay leaf until I felt like tackling it. Tackle it I did, and got it wound back up neatly. I also ran across the last bit of the hunk of roving it was spun from that had yet to be pre-drafted. So I pre-drafted it and put it in the big Tupperware container with all the rest of the predrafted roving. Well, having come that far, and long story short, I settled down with my drop spindle and spun the rest of it into yarn, set the twist and hung it outside on the line to dry. By evening it was in three neat balls ready to knit! So, I picked a stitch pattern from BW and cast on for a scarf. And I love it! The lace pattern is easy, the homespun is beautifully colored and quite nicely spun, if I do say so myself. I'm thinking I'm going to keep this FO just for me!
I'm thinking that with all the stuff I have in progress that I might need some progress bars on the sidebar. Maybe later.
Continuing with my weekend, in addition to all the cleaning, Saturday night I cantored at the 4:30 mass. It was First Eucharist (or First Communion as it was known back in the day.) I made my First Communion in a decade where they were trying to embrace those Vatican II reforms and were moving away from white dresses and little white suits on the kids. So my cousins and I were the only ones in full regalia for the event. The rest of the girls wore party dresses.
I bemoaned the seventies and the lack of traditional First Communion garb.
But let me just say that now, in my parish, First Eucharist regalia is all the rage! Every girl to a one was in a white dress, white shoes, all but one wore a veil, and that one girl wore a wreath of fresh roses in her hair and had obviously come directly from the hairdressers. It was AWESOME. Only one boy was without a suit, and he still had a tie and dress pants on. The rest wore jackets, and two of them had full on suits. Again--AWESOME. I know they're just clothes, but it really does help make the day more special for the kids. After all, this is--and should be!--a big day in their lives!
Sister and I have been planning my girls' Communion dress since we hung up the baptism gown. I made that gown and embroidered the bodice with a cross and lilies all in white on white. The dress has a long slip with an organza overskirt, and on the underslip I embroidered their full names and the dates of their baptisms. I hope their kids wear the gown too, and I'll put their names on it as long as I'm alive to do it and provided the arthritis hasn't crippled me. I hope all this knitting will keep my joints limber. My hands anyway.
But anyway, First Eucharist is just the cutest thing ever. After church we hooked up with Jeanne and went to Friendly's for supper and ice cream and got home quite late for us. After eight! Oooh!
Sunday...more cleaning. I took Bug off for her last CCD class and hung around in the church kitchen and visited with the grownups like I usually do. While I was out, Larry cleaned the bathroom, vacuumed the kitchen, and boiled the potatoes and eggs for egg salad. And on his birthday too!
Bug even started cleaning up her room yesterday. Miracles never cease. It's still a pit, but at least you can move around in it. We donated three garbage bags of outgrown clothes yesterday too.
So that was all good. But we found out on Sunday that Dad's girlfriend Bonnie's brother lost everything in a trailer fire the night before. He got out alive, and he got the two elderly people living with him out, but everything else he owned is gone. Bonnie was very stressed out about it and didn't come down for the cookout. So we're sitting in the yard and we see a souped-up Mustang roar into Dad's driveway next door, then a few minutes later roar back out.
Baboo came down a minute later and said that the guy in the car was Bonnie's other brother who came to tell her that their mother had fallen down a flight of stairs and was being rushed to the hospital. Dad was on his way back up to the house when Bonnie came down in the car and she and Dad left.
Long story short, Bonnie's mom was basically DOA at the hospital. She was well into her 80's and apparently had a heart attack, which is why she fell down the stairs. They got back from the hospital about 9 and Bonnie was calmer than I thought she'd be. The weird thing is, her mom been saving up to go into a retirement community and had some money put aside for that. Well, when her son lost everything, she told Bonnie to give the money to him, the home could wait. And then the next day, well...let's just say she doesn't need the home now.
It's weird how things work out. Both women were stressed about the money, and about her mom going into the retirement home, and if she'd eventually need a nursing home, and what they were going to do. And now, while Bonnie has to worry about funeral arrangements and settling the estate and all, she doesn't have to worry if Mom's alright, if she has enough money, if she's feeling okay. Like she said last night, she's in good hands now.
So, in the way that universe loved balance, we had wonderful parts of the weekend, and sad and tragic parts too. Sometimes it's just the way it goes.