Smells Like Spring Fever
In all the excitement of Easter and its ensuing festivities, it occurs to me that on April 1st I completely forgot to Flash My Stash!
An annual event wherein Knitters everywhere show off their strange obsession with all things fiber, it is also a cathartic moment where we may decide that our collection of yarns is manageable and sure to be knitted up at some point, or if our stash has gone SABLE—Stash Amassed Beyone Life Expectancy.
Mine is still in the manageable camp, probably because I tend to buy small quantities and make much stuff. So it works out. I don't tend to buy a sweater's worth of yarn unless I know that I'm going to get right to it. And I should point out too that at least half of my stash consists of yarn that was gifted to me and is not something I knit with all that much (the Lion Homespun and Fun Fur that I will make into Fuggle Hats until it is gone), and yarn that I got as part of a giant lot for five bucks when the LYS closed. I took the lot for the books that were tucked into the bag, and some of the sock yarn and some nice alpaca that was in there. But it does explain the 13 balls of school bus yellow Encore that I have in stock with no real plans for. I was thinking of designing a prototype duck sweater with wing-like sleeves, a hood with a bill on it, and short little tail. Or maybe a yellow sweater with a fair isle design along the bottom that looks like kids' faces in bus windows. I don't know.
But what made me think about Flashing My Stash, and remembering that I'm 23 days late in doing so was Jenneke's question for my blog contest. She wants to know, "How do you store your stash? I have a couple (more than a lot) of plastic bins but I need more space. Any suggestions?"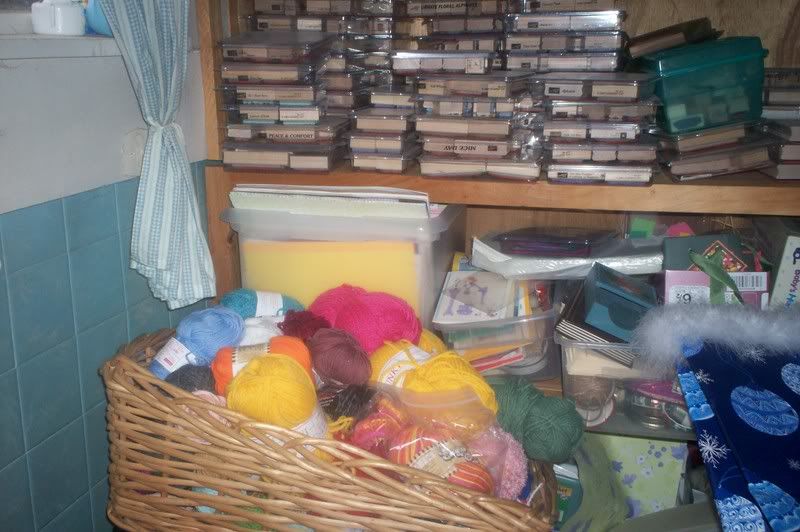 Well, I store my stash in several locations. In my "craft room" (a term I use loosely), I have two diaper boxes and one large willow basket filled with yarn. One box has single skeins of what I consider "good yarn" that just hasn't called to me to be a project yet. The second has the aforementioned acrylics that I use is wacky fun projects. The basket holds all that Encore and my cotton stash. In my living room beside my recliner are three smaller baskets with handles. One has just wool yarn, and the second is half filled with wool skeins and the other half is my WIP/frog pond area. Stuff I either lost the desire to continue knitting (a shawl that's been frogged twice already and half of two pair of mittens) and stuff that I finished and hated, or single socks/mittens that I ran out of yarn, or again, just hated.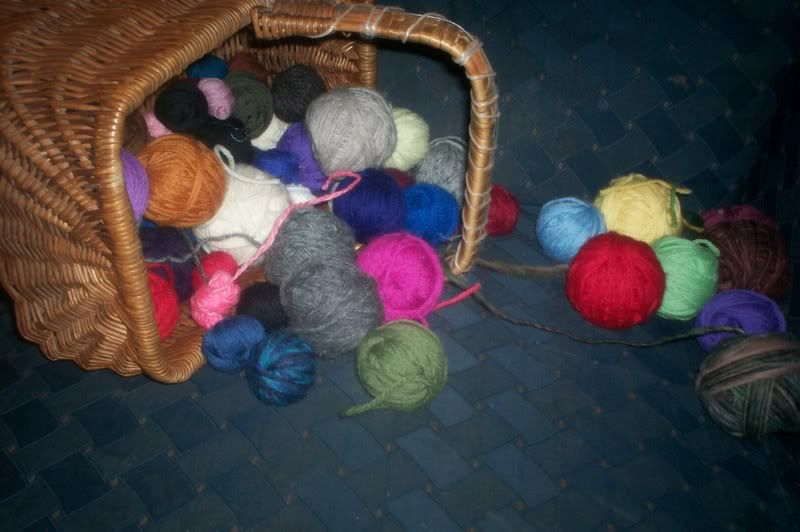 The third basket has small balls of wool.
I also have, not pictured, a box of wools from Elizabeth that she send as a RAK, and a bag of boucle yarn in my trunk that was given to me last year and I plan to give to the Altar and Rosary Society for their prayer shawl knitters to use. We should be starting up with meetings again soon, I'm thinking.
As for suggestions for creative yarn storage, bear in mind you're asking someone who keeps her stash in diaper boxes. But in a perfect world, I would have a lovely piece of furniture for my yarn. Perhaps a
dining hutch like ZantiMissKnit
has, or maybe a huge wine rack. At the Patternworks store they have an old section of post office mailboxes that they use to display their sock yarn. Something like that would be awesome too. I guess I'd love to put my yarn out on display so that I could see it all the time and not have to dig it out when I wanted to see what I have in stock to work with.
I have plans for a proper craft room someday. We have a room called "The Junk Room" that serves as an attic, since we don't have one. It is attached to the house along with the shed, but neither are finished as real rooms. They are not insulated (to my knowledge) nor are they heated. But the Junk Room has great potential as a craft room. The plaster needs much repair, if not outright replacing, certainly the lack of insulation would need to be addressed, it would need a floor, lots of lighting installed, heat for the winter, and of course a lot of storage and work space.
Step one: empty the room. It's full of furniture not currently in use (like beds and exercise equipment) and God knows what else. It's going to take a lot more gumption than I possess to just get it cleaned. But someday. Someday…
Naturally, since Spring has finally decided to arrive, thoughts do turn to cleaning. I tuned up the grill yesterday. Got it a shiny new rack, a fresh charcoal chimney and clicker lighter thingy, a fresh bag of Kingsford Matchlite, and a grill cleaning brick. And we cooked out! We had two kinds of marinated steak, two kinds of marinated chicken, and a nice Ah-So pork. I made potato salad and Caesar salad, and my friend Jeanne brought strawberry shortcakes for dessert. We ate outside, listened to the peepers, and went in when the mosquitoes came out. I know. We haven't even had black fly season yet, and the skeeters are here! Can this really be an early spring, or just a tease?
Also this weekend I have come down with a Mother of a cold. I was just saying to Larry that it was amazing that even though he had the flu and a cold, Emma had a stomach bug and a cold, and Bug had a cold that I didn't get sick at all.
Clearly, I spoke too soon. I feel like death warmed over, though marginally better since I've showered. And at least I slept last night, which is more than I can say for Saturday night.
When I'm done here, I'm going outside to pick up the yard a bit. Clean up the iris beds and some loose trash that was hiding in the snow.
Oh, and I almost forgot! I made some more stuff for etsy. Nothing is selling there, but I'm not worried, because craft fair season is right around the corner and I'm quite sure I'll do well this year. I can sense it.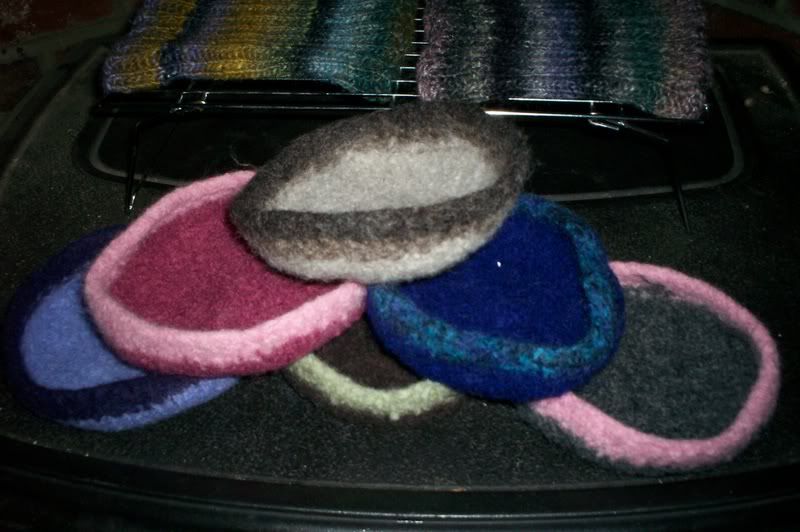 So I did a half dozen little bowls. Another great stashbuster! I made one for myself to keep my fancy
Entrelac stitch markers
in, and impressed even myself with how great it is. So the bowls I made are shallow, almost like a saucer, and they have a lip that curves in at the top to keep whatever's in the bowl, in the bowl. I think it would be handy for keys and loose change too. You know, if for some weird reason you don't knit. Or use stitchmarkers.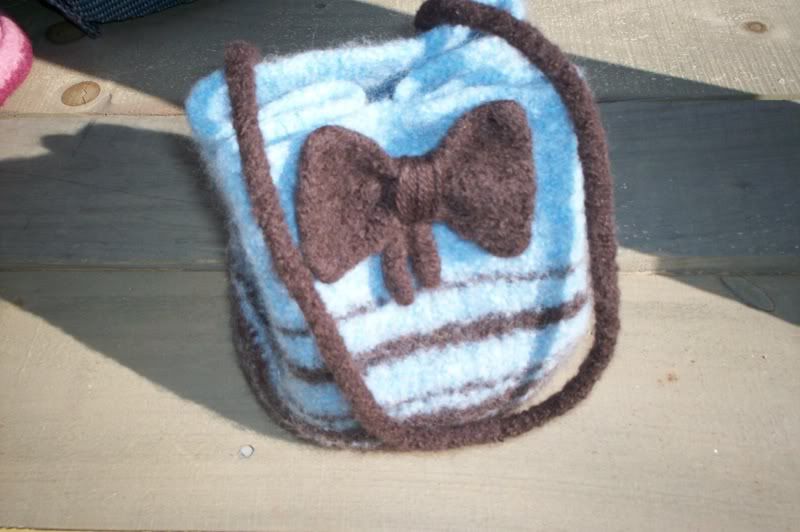 And I made another bag, a blue and brown one this time with a wee bow on the side. It's a hybrid cross of the Rainforest Rita pattern (that I made up) and the Peppermint Patty pattern (also made up), with a few more drawstring holes on the top. It looks a little less devil-may-care- than Rita. Sort of like Rita's conservative cousin.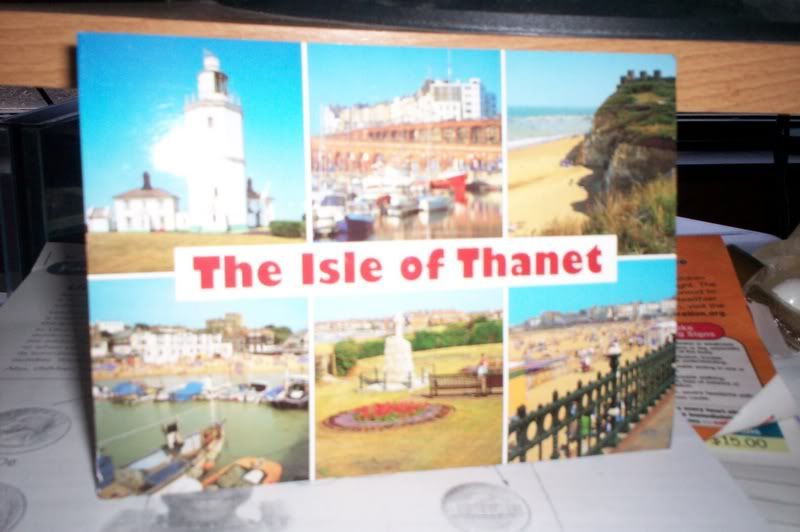 And this weekend I got a postcard from my Secret Pal. From England! I don't know if she's English, visiting England, or just had an English Knitter send me a postcard to try and trick me. I do know that the Isle of Thanet and its area look like a lovely place to visit.
My own Secret Pal's box of goodies is getting fuller by the minute. I'm stalking the postman even as we speak for a couple more goodies to go in it, in addition to the doodads I put in yesterday. This is so much fun!
Now I must go clean the yard. It looks like the Clampetts live here…