Baloopa Joes!
Bezzie wants to know, because that's the kind of gal Bezzie is, "Boxers or briefs?"
Baloopa Joes, baby!
Technically, they're called briefs, but I classify them as the boxers shorts of the world of women's undergarments.
Also known as Granny Panties, they are renowned for their utter lack of sex appeal. But I think they get a "bum" rap. (OH! Someone stop me, please!) They are probably the most comfortable underpants in the entire undie kingdom.
I pick underwear that covers some acreage. There's nothing I hate more than picking a wedgie, which inevitably happens when I try to wear something fancy.
Nope, mine are big, and comfortable.
And you guys are in luck! I happen to have a picture of my Uncle Lou with the pair he gave me for my birthday last year. Uncle Lou and I have always had a special connection…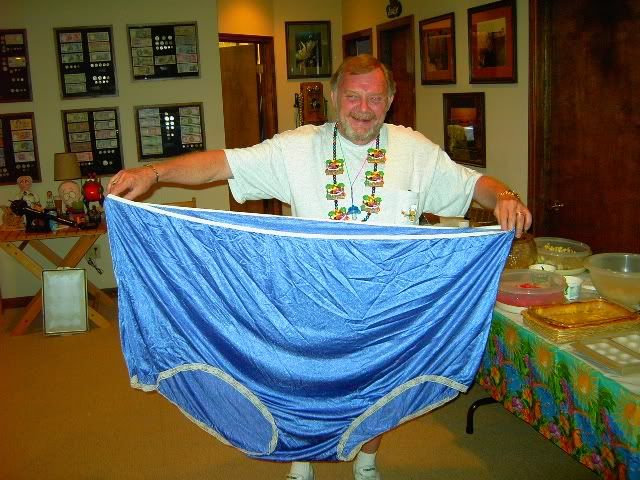 Good old Uncle Lou. He's Wookin' Pa Nub, ladies, if anyone wants his email address...
In other non-underpants news, we are on the tail end of yet another nor'easter. We've had widespread flooding, trees and powerlines down, such a mess! We even had a delayed opening at school this morning.
Mount Washington, the highest peak in New England and home to the Worst Weather in the World, had recorded sustained winds of 156 MPH last night. That's a category 5 hurricane for anyone keeping track. They're no worse for the wear today, though.
Bobo is still chartreuse this morning, with mustard overtones. And she can breathe through her nose again. And is apparently in a growth spurt because she has had so far since this morning, two pieces of peanut butter toast, a peanut butter and jelly sandwich, a granola bar, a hot dog roll she filched out of the package while I wasn't looking, a handful of peanuts, a frozen pizza, probably at least three Oreo's at my dad's house, and now she's stolen a bag of mini cookies from the cupboard and is eating those like they're going out of style.
I've actually been doing some knitting this week, but I haven't taken pics yet. It's too dark in the house, and too wet outside to do them justice, so I'll have to catch up this week and show them all later on. See, something to look forward to!