Sock Knitters, Beware!
A public service announcement brought to you courtesy of Ask Poops, Please.
If you ever thought of locking up your handknit socks before, well, now is a good time! Especially if you live in Belleville, Illinois.
I can see it now. Sock safes. Hosiery vaults. Stocking strongboxes. Instead of Socks that Rock you'll have to make Socks that Lock.
Somebody stop me, please.
Anyway, read all about it
here
courtesy of today's front page news. A news article guaranteed to strike fear into the hearts of sock knitters everywhere. *shudder*
Sock snatcher aside, (she said "snatch". Heh heh hehhhh.) we had some good news this morning! The Sears repairman was here bright and early at quarter past eight to fix the big TV! Yep, a piece of tuner, a spot of solder, and $201 later, my big 37-incher is up and running. He said it was worth fixing too, that we have a peach of a TV there. Woot!
I also took some pictures of my bush. Wanna see?
It's more of a tree than a bush, but it does a good job of holding up my new scarf! I spun the yarn myself from roving purchased from an etsy seller. The colorway was called "Maud", so I like to call this the "For the Love of Maud" scarf. The pattern is called "vine lace" from my new Barbara Walker book. I didn't block it so well,
but it's going to be in the 80's all this week, so it's likely it'll be going in a drawer for several months anyway. At least I hope so. It better not be cold enough for a scarf in May. If it is, I'll get ugly.
Though from the looks of things, I might need it at NH Sheep and Wool this weekend. *sigh*
So, in the continuing saga of the upcoming funeral, things have taken an interesting twist. I no sooner get back from the bus stop and the phone rings. It's my mother. She's seen Bonnie's mom's obituary in the free paper and apparently Bonnie has "assumed" my father's last name and she's listed Dad as her husband. Um...they're not married. Really. They're not. Ma got a chuckle out of it and was going to get off the phone to give Dad some shit about it.
And there you go. Yet another example of "don't believe anything you read." Especially if it's in the free paper.
The funeral is set for Thursday afternoon at the funeral home. Fr. Albert is going to do the service, and Jeanne called me last night after choir practice and volunteered her services and her guitar if Bonnie would like something sung. Oh, she also volunteered me to sing the song. So if Bonnie wants a song, we'll sing it, provided it's cool with the Padre. I don't know why it wouldn't be, but you never know.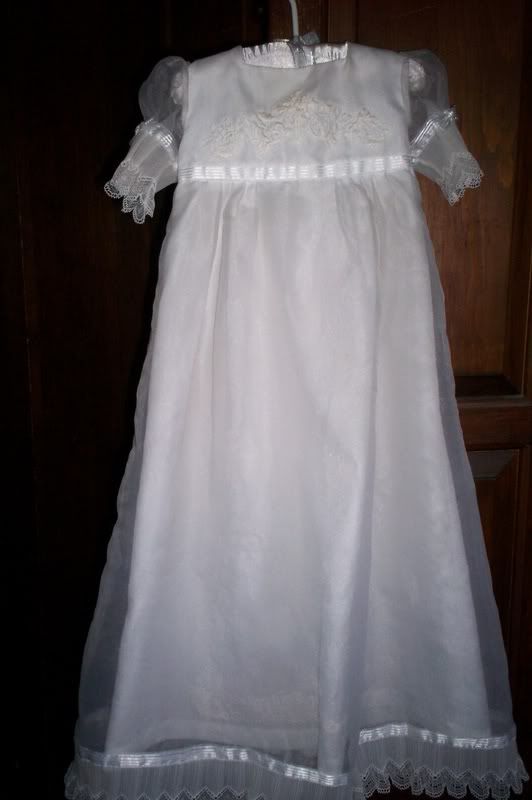 And speaking of church things, I posted some pics of the girls' baptism gown that I made. It's 100% polyester fabric, so it should last forever. It's slippery as a mofo, though. You gotta keep a good grip on the baby when she's wearing that bad boy! The first picture is of the gown as a whole. This is mostly so you can see the length of it.
The second shot here is of the bodice. It's embroidered with white on white and it has a center cross motif entwined with lilies, and the floral vines on the side are sort of a Jacobean design. Bug was the queen of spitting up as a baby, and before her baptism I dressed her and put her bib on her. I swear I didn't take it off until just before the baptism itself, and what does she do? Promptly spits up on the gown. You knew she would, didn't you?
We dodged that bullet with Bobo by having her baptized by immersion. She wore a cute sundress to church, and right before the baptism I stripped her down to nakee baby and father put her in all over. (It is really terrifically cute. You have to see it to believe it.) Then once she was dipped, I dressed her in her gown for the rest of the ceremony.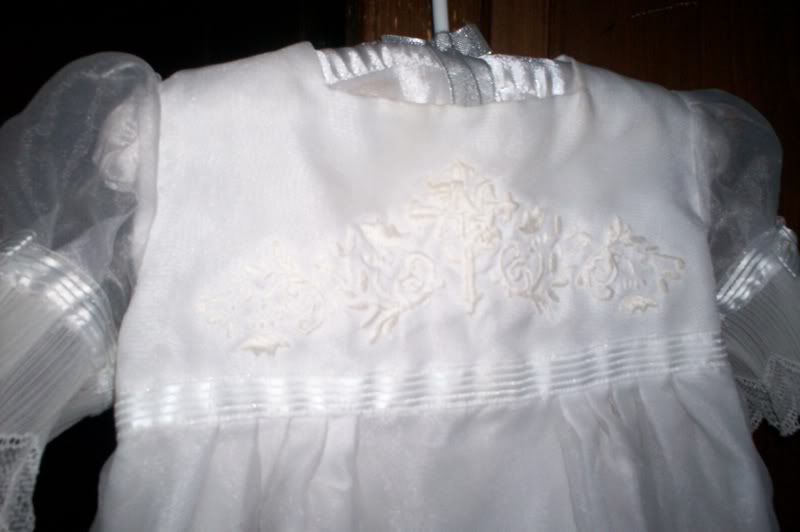 Because there's more to it than just dipping. As a matter of fact, I think the next part is where Father says something like "Receive this white garment as a symbol of your baptism. May you bring it unstained into God's kingdom..." etc and so forth. (If you let him know that the gown was made by someone special or is a family heirloom of some sort, he'll mention that too.)
I never realized--getting back to funerals again--that at a Catholic funeral, at the back of the church before the mass, the family drapes the casket with a white cloth, called a pall. And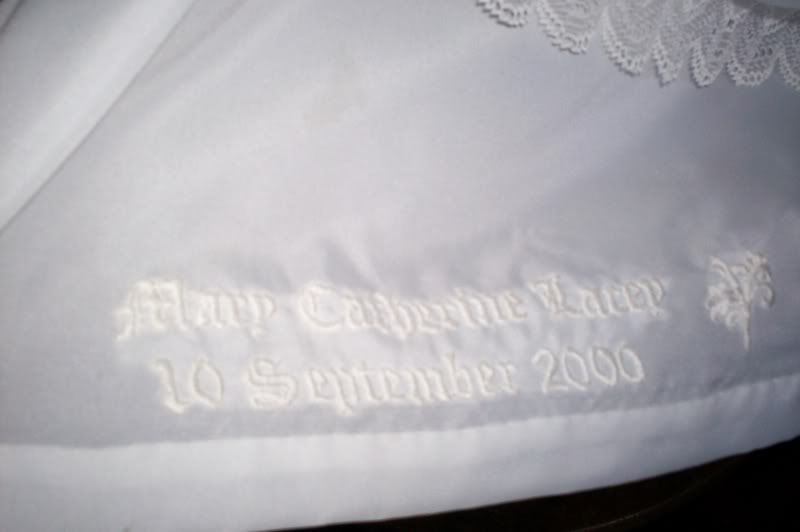 Father says something to the effect of "At your baptism, your family brought you to church clothed in white...." and then goes on to connect the rebirth of baptism with rebirth into heaven through the resurrection promise. It's very cool, and I couldn't believe I'd never noticed it before. Well, you live, you learn.
Aaaaaanyway, the next two shots are of the hem. There's an organza overdress, and an underslip. On the bottom of the underslip, embroidered in white on white again, is their full name and under that the date of their baptism. There's an Easter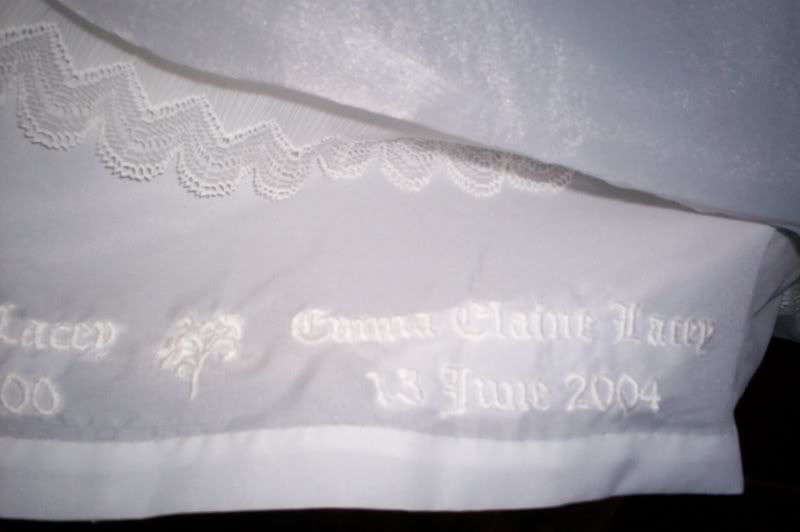 lily embroidered in between to separate the two names.
I think I'd like their First Eucharist dress to be similar in design and concept. I'd like an organza overdress and an underslip that can be embroidered with their names and First Eucharist dates as well. I haven't planned out a design for the bodice yet, but I do think it will feature a cross of some sort again, but instead of Easter lilies I'll go with a wheat and grapvine motif. You know, bread and wine and all that. I've only got some vague ideas floating about in my head at the moment, so I'll have to get back to you as things progress. I've got a year. Don't rush me!
I dug my own First Communion pictures out of the vault this morning. As you can see, I did not get screwed out of the white regalia. That's me, the Bride of Christ in the middle there.
White dress, white tights, white veil, white shoes, and yes, even white gloves.
In front of me receiving communion is Rachel Clark. I was confirmed with her (and most of my FC class when you get right down to it), and her parents still go to our church. They're lovely people, the Clarks. Note that
she
got screwed out of the white dress and is wearing a long, purple gown. Long dresses were the thing back then.
You can't see her in this picture (Who am I kidding? You can barely see me in the picture. No scanner--sorry.) but my cousin Wanda is two behind me in line, right after Mark Bolstridge. She's wearing something equally long and equally heinous made from pink polyester with very poofy sleeves. My communion dress no longer exists, sadly. Ma loaned it out at one time or another and we never got it back. Same with our baptism dress. Though as she pointed out, they were the cheapest polyester money could buy from JC Penneys in the early seventies, and we're well rid of them. They are far from heirloom quality.
It kept me out of a quandry, really. I mean, if the dresses still existed, I know I'd feel compelled to put them on my girls out of tradition's sake. But I really did want to make their dresses, so that would have posed an internal struggle for me.
No dress, no struggle. No problem.
I think I'm going to go watch my GIANT TV now. Why? Because I can, baby!