And the Fug just keeps getting bigger.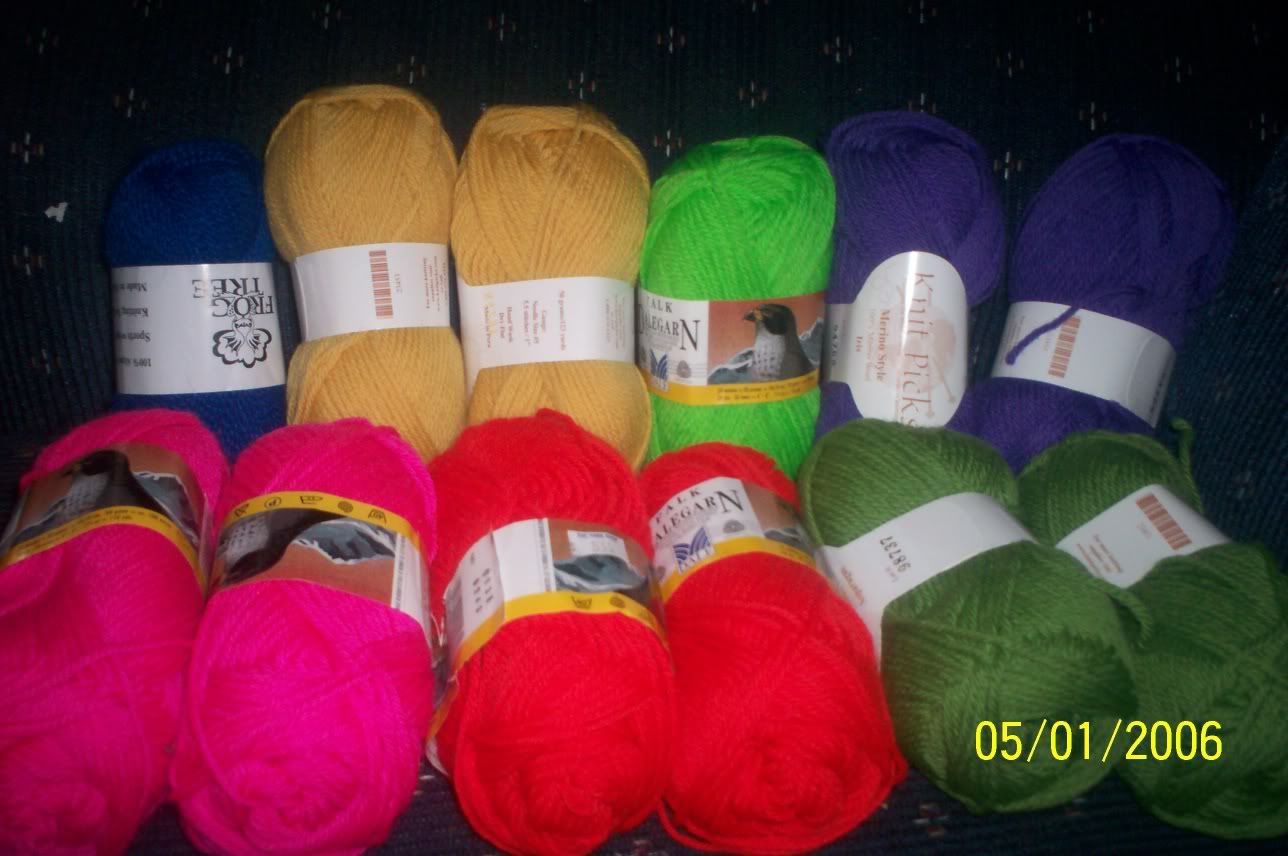 The Poncho From Hell.

Here's some more yarn for the Poncho From Hell. And another reason why one should take pictures in a bright light, even with a flash.
Anyway, I got a shipment from
Knitpicks
yesterday, and that combined with a trip to
The Yarn Shop
got me some screaming flourescent green (center), bright blue (top left), green and yellow and a kind of bluish purple. The Knitpicks colors aren't anywhere near as bright as they appeared on my monitor, but they should take the edge off the horrifically bright ones I'm using, so maybe it'll all work out.
I've been graphing out the design for the poncho, trying to make the patterns fit into stripes that increase as many as 8 stitches over the course of the stripe. But all that "mousing" makes my wrist hurt, so I had to give it a break.
Hayfever.
Oh, I've got it bad. I'm living on Claritin-D these days, though I'm not convinced it's doing all that much. I actually don't feel too bad this morning, probably because it's raining like a mother out there. Keeps the pollen down.
One discovery I've made about decongestants/antihistamines: they do not combine smoothly with singing. Got into church Saturday night and my throat practically closed up when I started to sing. I had to keep a cough drop in my cheek for most of the mass, just so I wouldn't cough myself to death. But I made it through, with no voice to spare.
Last night was our weekly rehearsal and again, I pushed my voice to the max. It'll be my own damn fault when it's gone completely. It'll serve me right.
And since there are long down times when the other parts are learning their notes, I think I'm going to bring a sock or a mitten or something to knit on while I'm waiting. Something mindless I can knit while I sing without messing either up.
Oh, and I almost forgot that I got all kinds of new yarns from Knitpicks for my stash as well. I'd love to show you the picture I took of the 11 colors of
Wool of the Andes
that I bought, but for some reason, Blogger won't let me upload more than one picture into a blog entry at a time. Which is probably just as well, since the picture came out pretty dark anyway.
What a moron. You can see them
here
.
Another Bug Sweater!
I finished the salmon-colored sleeveless sweater that I was working on! It came out perfectly, except the top neck ribbing didn't fit over MK's enormous head. So I opened the side neck seam and added three little pearl buttons with single-crochet loops, and now it's just right. It's blocking at the moment, but when it's dry I'll put it on the Bug so as to take a picture. I may send her to school in it later this week when it warms up a tad. It may take that long for it to dry. Freakin' cotton.
And I finished it with just enough yarn left over to seam the sides. Talk about a close call!