Customer Service, My Ass
If you hear that I've killed myself, it's probably true. This computer drove me to it. This is the seventh time I've tried to post this. My virus scan sucks and it keeps causing errors in Internet Explorer. It worked fine until I purchased the 2007 at great expense to myself and now it doesn't work for shit. I can't take much more of it. And my next computer will be a Mac, you mark my words. Bill Gates can kiss my ass.
(I've turned off the virus scan per the instructions of the nice Indian lady in the customer service center, and it seems to be working fine. I'm probably getting all sorts of viruses even as we speak. She gave me a case ID number to call back if the computer doesn't spit out any error messages. Did I mention that I spent about 40 minutes on hold just trying to talk to Bangalore in the first place? Sorry, I'm cranky, and I'll move on. I'm so looking forward to calling her back...)
So here are a few of the FO's that I'm proudest of. See, Photobucket doesn't do collages like Flickr, so I can't show you bunches of stuff in a group. And as anyone who has spent any time with Blogger knows, it's damn near useless as far as posting pictures in any volume.
But I digress. And if you've already seen these things, I apologize for the repeats.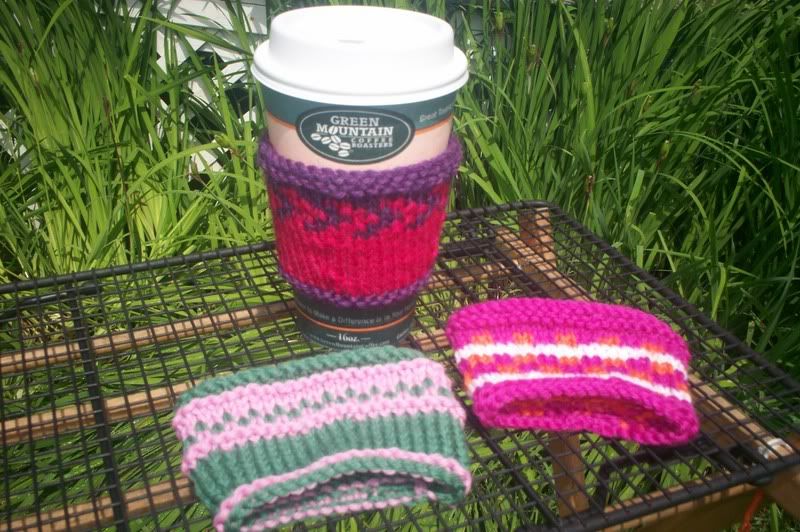 First, I am inordinately proud of my Coffee Cozees and Sudz Soakerz. It's what all the well-dressed beverage containers are wearing this season. They are easy to make, use up odds and ends of yarn, and make great gifts. I have also posted my pattern. Look over to the left and you'll see the linky thing in the sidebar under "Free Patterns."
I am also pretty proud of the girls matching poncho and sweater. They are made with yarn from
http://www.handpaintedyarn.com/
and I love their stuff! I currently have an order in for wool to make them new hats and mittens to match their new jackets and snow pants. This picture was in our Christmas cards because of the stinking cuteness of it all.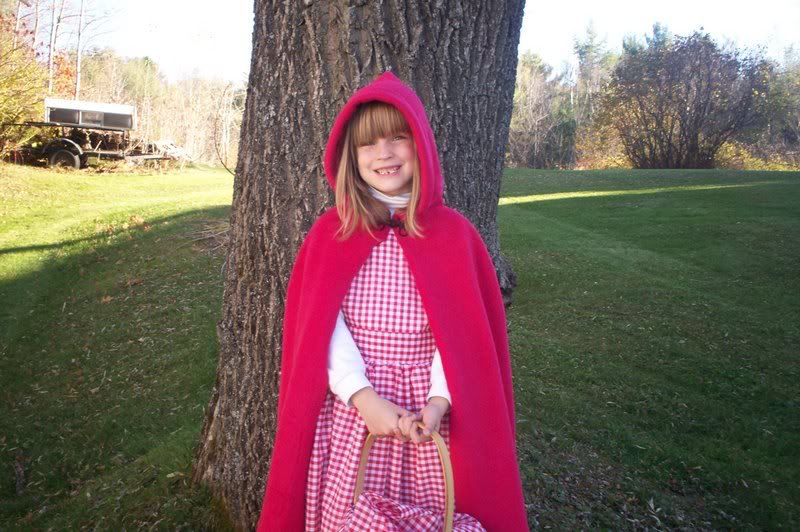 Finally, although it's not knit, I did make it and consider it an FO. This is Miss Buglette on Halloween in her Little Red Riding Hood ensemble. I made the pinafore and cape. Handsewn since my machine is on the fritz and I have no place to set it up anyway. Bug was especially pleased that she was the only LRRH at school. Yay for originality!
We had a bit of snow this morning. Not much to write home about, perhaps an inch or so, if that. It is funny that it was 25 degrees F at the bus stop this morning and we were remarking on how mild it is today. When 25 is mild, you know it's been cold. Beats the hell out of the 0 degrees we had for the last two!
Today I am making mittens to list in my etsy shop. Kids mittens have sold really well for me, so it's time for more. If you need some, please feel free to go over and browse.
I will publish this now before the computer goes tits up on me again. Bastard.