Guest Star #1: Stuff on my Cat
This is Lilith. She is modeling my new scarf of 100% handspun angora. It is a soft fawn color, and I used bits of color in a single crotchet around the edge. It is worked up in a lace pattern called "dainty chevrons", because I am nothing if not dainty, and Lilith liked the bunny smell of it. But she wasn't crazy about the flash. Or the fact that the angora obscured her own luscious fur of which she is extremely proud, and with good reason. She consented to one picture, but a whole photo shoot was out of the question.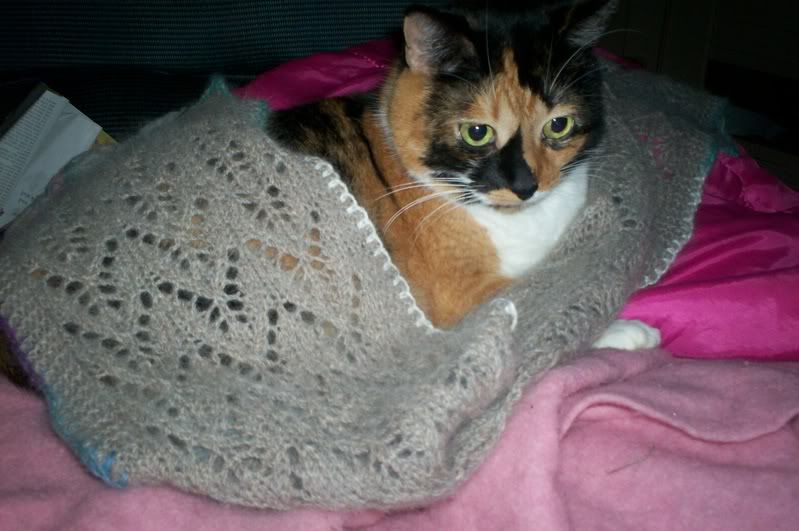 Currently, she is having some krinkies and a sip of water from craft services. Then I believe she's going to call her agent.
Guest Star #2: the midnight farm
A lovely fellow Knittyhead made up a dishcloth from my pattern and kindly submitted her pics for my dishcloth "gallery". In case you missed it,
here is the pattern
, worked in variegated pinks and reds by the midnight farm, and
here is another Knittyhead submission
, this one from dear Yarner.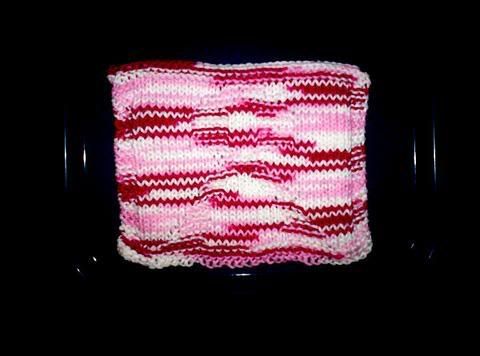 Now, if I get this post to post (cross your fingers!), I'll update you on the porch progress later.