The Kindness of Strangers
There are those people out there that think friendships can't be forged in cyberspace. It's too easy, they say, to hide who you really are online and become whatever you want others to think you are.
They argue that the Web is full of con artists and scammers ready to get what they can from you, so keep your guard up and don't let anyone you meet online get to close. At the end of the day, remember that you're talking to strangers.
Well, those people never met My Knitters.
The Knittyboard is a place for knitters to get together from all over the world and have a chat, get some advice, or vent their spleen when needed. It's a community, and everyone is welcome as long as you can abide by the first rule—the Knitty Prime Directive as it were—and Play Nice.
I have met some of the nicest people in the world there, and they are my friends. More than that, they are My Knitters. I've always loved just checking in every day with them, reading their blogs and seeing what projects they're working on. And from time to time, the Spirit has moved me to send someone here and there a little something.
Knowing the generous spirit of Knittyheads, there's a special forum on the board called cryptically "SP and RAK". SP is Secret Pal, which is kind of like a Secret Santa but without the Christmassy part, and RAK just means Random Acts of Kindness.
You sign up for SP rounds and someone gives you gifts while you shower someone else with presents. I just signed up for a short Spring Fling Secret Pal round and I'm excited because it's my first time.
But the thing about SP is that you know you're going to get gifted in addition to giving. But RAK is another animal entirely. You can post at will to the thread and list some stuff that you'd like, knitting or otherwise. And others read the posts and maybe they pick you as a recipient of an RAK, and maybe they don't.
I told you that story to tell you this one.
Yesterday, I'm sitting at my 'puter, and I look out the window and see a cloud float over the neighbor's house. It was shaped like a perfect "Z". I've seen bunnies, scoops of ice cream, even the occasional fire-breathing dragon, but never a letter of the alphabet. "Curious," thought I and continued surfing.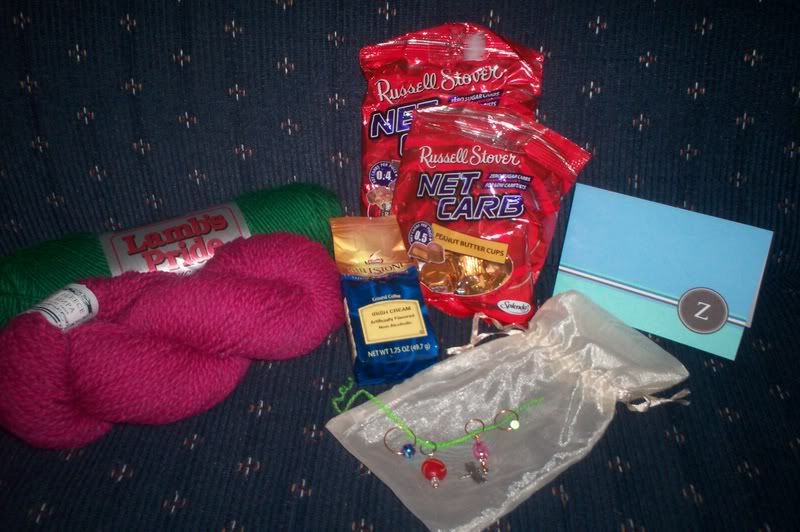 That afternoon, I popped out to the mailbox and there's a completely unexpected package in there. It's a RAK! I rip into it like a madwoman and there's a card with a "Z" on it. *insert spooky music here*. It's a care package from Zonda! She sent me two bags of Russell Stovers Low Carb chocolates, a package of flavored coffee, four handmade stitch markers in various sizes (nice touch!) and two skeins of my beloved worsted wool—fuschia Peace Fleece and green Lamb's Pride!
I was totally verklempt, so I documented it for
posterity, and this morning settled down to compose a proper thank you for the goodies. Suddenly, there's a knock at the door. It's the mailman with two GIANT boxes.
They're from Elizabeth! Now, I knew she had a bed rail for me because we discussed it on the boards and she said she had an RAK for me and she'd send it as well. She asked me for specifics ahead of time on what I wanted for yarn, but I had no idea the lengths to which she would go!
There's a tote bag for my knitting to ride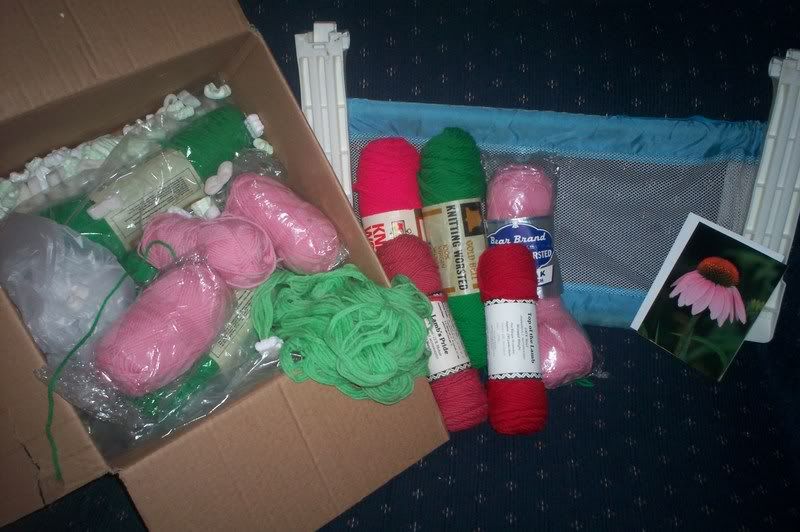 around in, and many, many skeins of vintage worsted in shades of pink and a green that she describes as "Arnold Palmer circa 1974 Green". I have no plans to overdye the vibrant colors as she suggested I might do. I have every intention of making myself a kicky felted totebag out of it!
Or a granny square mini-dress. I can't quite decide.
So to anyone who says that you can't make "real" friends on the Web, I say you are so wrong. My Knitters are the best; they're kind, warm, intelligent, witty, and all around lovely people. I'm lucky to have you!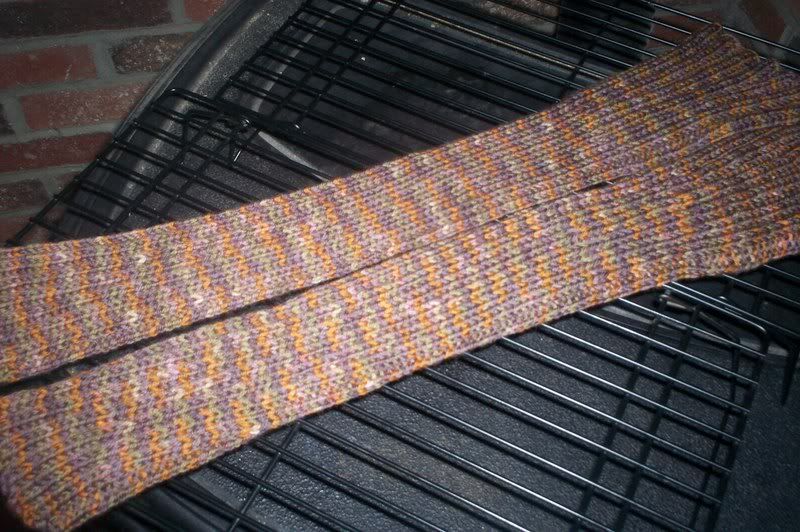 And in other news, I finished those legwarmers. They are ready to mail. Yay! And phew!