Wailing like a Wounded Wookie
I can't find my memory card to the camera!
It's not in the camera. It's not in the card reader slot on the computer. I think I took it out when I was trying to resolve some of my virus scan issues, and if that's what I did, I put the card on the monitor shelf right beside the camera.
Only it's not there now.
I discovered it this morning when I tried to take a picture of the girls in their snow suits. Bobo looked so much like Randy in A Christmas Story that it was killing me. ("I can't put my arms down!") And I checked the camera for the card...not there! So I went to grab it out of the card reader...not there!
I'm panicking a little now. Just so you know.
But the lack of memory card will not keep me from sharing a couple more FO's from 2006 with you.
The first picture is Miss Bug in her peach cotton sweater. The yarn used was Classic Elite "Premiere," 50% pima cotton, 50% tencel. Very soft, but being cotton has no give and was hard on my hands. The pattern was called "Denim" by Sirdar. It was a simple sweater and an easy knit, but I'm extra proud of it because of the fact that I actually followed the pattern as written! I can't help it, I'm a tweaker. The only adaptation I made was to add buttons to the collar because Bug has an enormous head and the ribbing of the collar just wasn't stretchy enough to go over her head. Perhaps in a stretchier yarn it would have worked. Who knows? But there are three pearl buttons at the shoulder that worked out perfectly.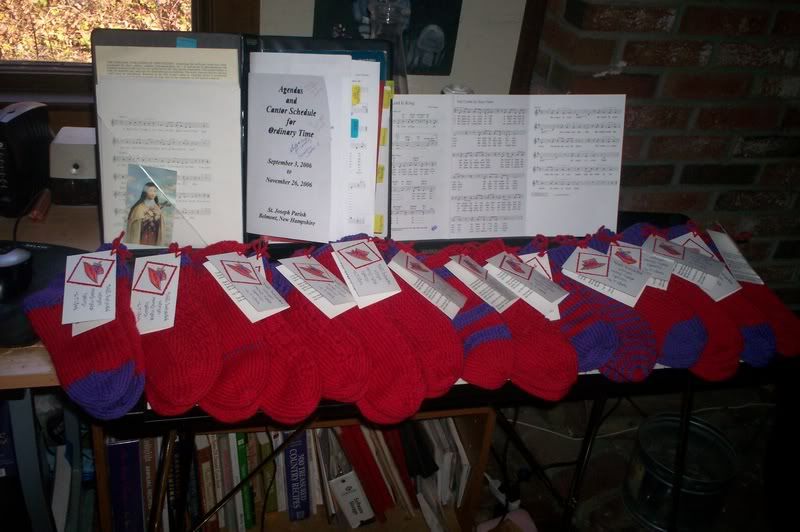 The second FO is actually 15 FO's in one. I made some slippers for a lady in my choir in "Red Hat" colors of red and purple. She liked them so much she ordered some for all the ladies in her Red Hat group. It took me many months, but they are all different in some way, and they each have their own handstamped care tag on it as well.
So I'm trying to get over this cold I kind of have. It's not a full-blown cold, just some stuffiness and sore throat and such. I barely had enough voice to get through Mass on Sunday. I was cracking all over the place, and coughing up phlemballs...it wasn't pretty. But, whatever. With luck I won't have to cantor next weekend. I'm crossing my fingers that Laura shows up. Jeanne is going on vacation, and she's assuming that L. won't show for 8:00 mass and she wants me there just in case.
Cross your fingers that she shows, and say a novena to St. Anthony for me to find my memory card!