Poops on Tour
Where to See Poops This Summer
(If You Find Yourself in the Area)
August 11, 2007--St. Joseph's Church Craft Fair @ Belmont Old Home Day
I added that bit because I'm pretending I'm a knitter of Some Stature and thought it would be funny to post my tour dates. Come see me in person, fondle my handknits...I'll even sign something for you, boobies a specialty.
In knitting news, The Mitten Queen reigns supreme. Koo koo ka choo.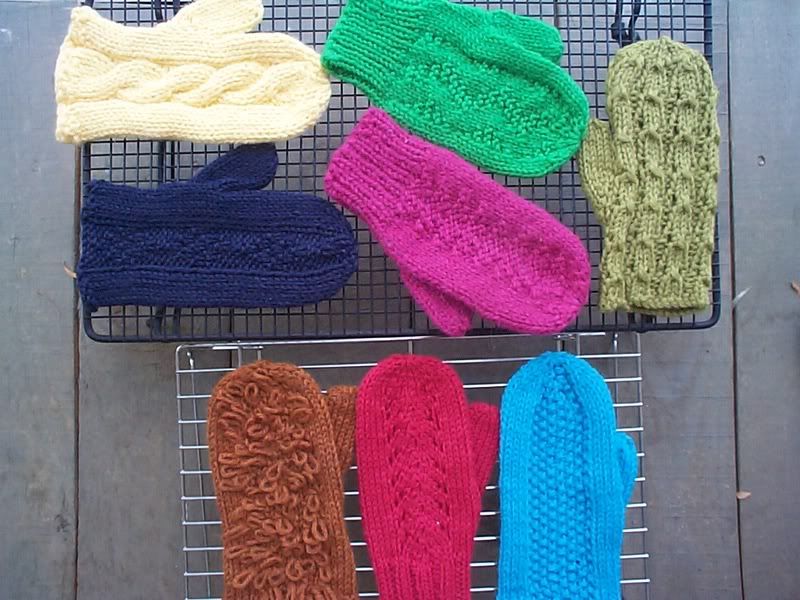 Clockwise from upper left:
Yellow Encore chunky with cable accent.
Green 1974 Arnold Palmer green with garter zig zags.
Avocado green Ella Rae with mock crock pattern.
Turquoise blue Encore chunky with seed stitch panel.
Bougainvilla pink Nature's Spun worsted with travelling vine pattern.
Harvest gold Ella Rae with loop stitch accent.
Navy blue Ella Rae with double moss diamond rib panel.
And finally, in the center, fuschia Peace Fleece with stacked triangles accent.
They're out drying fully on the porch and I should be able to mail them on Monday. And right as the order for these came in, I was just starting some more mittens for the aforementioned craft fairs that are coming up in the next few weeks, so it's back to that knitting (and fun stuff for me and maybe some charity knitting too) now.
On the homefront, Bug had a sleepover on Thursday night which proved to be fortuitous. At three in the morning, after going to bed too late to begin with and then getting up with Bobo because she was sweaty and couldn't sleep, Mr. Poops woke me with much groaning and swearing. He said it felt like someone was stabbing him in the gut and it hurt to stand up. So off to the ER we went, sweaty toddler in tow.
Long story short: kidney stone. His second one thus far. Morphine was administered, pain was eased, CT scan showed a small stone that was almost to the bladder, and we were discharged and home at 6. Bobo decided she was UP, and that meant so was I, since the morphine knocked DH on his ass and he slept all day.
She went down for a nap at one and slept until 5. I didn't get my nap because as soon as I lay Bobo down, Bug got home from her sleepover.
And then last night we got together with some classmates at my friend Polly's house. It was a lot of fun. There were eight of us with spouses. It was a good time. We didn't get home until quarter to 11.
Needless to say, Mama's tired this morning... but my ankle is feeling better. And I'm itching to spin!